Golden Technologies has launched a new innovative product in the mobility division. The introduction of this new design and comfort features will help retailers drive cash sales with our profit producing products.
The GP162 Envy is the next generation in the LiteRider series. A large, portable power wheelchair, the Envy offers a larger footplate and stylish redesign on the back with a decorative plastic color shroud. It comes in six colors: Cherry Red and Paradise Blue, along with limited edition vibrant colors including Envy Green, Solar Flare Orange, Sunburst Yellow and Satin Silver. Red models are currently shipping. Blue models and all limited edition color models will ship in early 2018. "In an effort to help retailers grow cash sales we wanted to offer more color options that are bright and inspiring for a personalized look," said C.J. Copley, Executive Vice President of Sales & Marketing.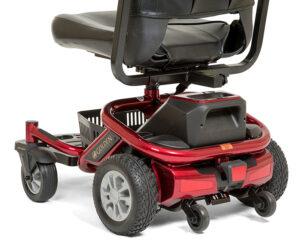 The all-new LiteRider Envy power wheelchair is both stylish and durable with a tubular design that is unique to the Golden LiteRider family. The Envy has a larger footplate and an impressive turning radius of 28.5", and like the other LiteRiders in the series, it disassembles quickly and easily for transport. It features 2-22 amp hour batteries for an operating range of up to 15.5 miles. The heaviest piece is only 37 lbs., making storage convenient in the trunk of any vehicle. When you are looking for a compact power wheelchair that is fun to drive and easy to transport – look no further than the Golden LiteRider Envy!